Establishing and monitoring the operating parameters of a hydraulic system is vital to check whether it is within the specified tolerance range, or to discover the reasons for a malfunction. In hydraulic and pneumatic circuits, a manometer or pressure gauge is used to calculate the pressure in fluids, which determines the pressure difference between the fluid and the local atmospheric pressure.


Pressure gauges are used for pressures ranging between 0 and 1 kg / cm2 and 0 and 10,000 kg / cm2 and also for vacuum systems. Estimates can be 0.1 to 2% of full scale, depending on the material, shape and precision of the components.
Pressure gauges are designed to measure specific tolerances, and can be placed on pumps, portable compressors, industrial machinery, hydraulic and pneumatic systems, instruments and pressure vessels. This is why there are different aspects to consider when choosing a pressure gauge:
Materials and Configuration
A pressure gauge can take several forms, and can be made from a variety of metals. The most common materials are copper alloys or chrome-nickel stainless steel, with copper giving better heat transfer, but stainless steel offering better corrosion resistance for outdoor applications.
Iron-nickel alloy tubes are also used because they have a very low coefficient of expansion, which allows the pressure reading to be unaffected by the temperature of the instrument. The shape or configuration of the gauge is also important, as many pressure gauges are designed specifically for a certain type of hydraulic system.
Manometer housing can be made of plastic, aluminium, copper, or stainless steel. Inside, hydraulic manometers are filled with liquid glycerin, while the interiors of pneumatic manometers are usually dry. The window can be glass or polycarbonate, and the tubular spring (inside) is normally brass.
Size and Mounting
The diameter of a hydraulic pressure gauge can range from 63 to 100 mm, while pneumatic pressure gauges have standard widths of 40, 50 and 63 mm. The mounting can be vertical or rear, but it could also be designed for panel mounting by front ring or flange. Each of these details influence your choice of pressure gauge.
Measurement Ranges
The pressure measurement scales for hydraulic manometers range from 0-0.6 bar to 0-1000 bar, while pneumatic manometers range from 0-1 bar to 0-20 bar.
Find Out More
For help choosing the right type of pressure gauge or monitoring system for your hydraulic or pneumatic mechanisms, please call Hydrastar today on 01353 721704.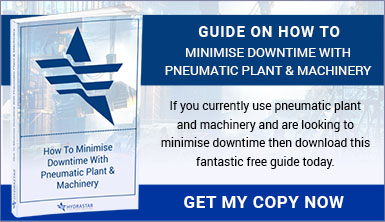 Image Source: Unsplash