Hydraulic systems use pressurised fluid to operate arms and pistons with extraordinary strength. While that's great for industry and manufacturing, we shouldn't forget their many other uses, too. One often-overlooked application is as a driving force for industrial-strength motors.


What Is A Hydraulic Motor?
A hydraulic motor consists of a fluid intake, outtake, and generation chamber. Forcing flowing hydraulic fluid through a revolving turbine and a fluctuating piston actuator converts fluid motion into kinetic energy. This energy then transfers to the outside of the motor via a wheel-attached axel or actuating arm.
Hydraulic motors are adaptable and versatile components. Omnidirectional and bidirectional units are available, built and tooled to fit any hydraulic pipeline.
Rapid spinning motion from the motor can drive flywheel axles, move booms and external pistons, generate electrical power, or return hydraulic fluid to the main reservoir. Gear, vane, single-piston, and radial models help engineers tweak speed, power, torque, and environment impact (i.e. vibration, noise) to each motor's working space.
They're powerful, too. Hydraulic  motors can easily match or outperform internal combustion and electric induction through the actualisation of potential energy that would otherwise go to waste.
But which type of hydraulic motor is right for your application?
Getting The Right Angle On Things
Hydraulic motors split into two main broad categories – 1) in-line axial and; 2) bent axis configurations. These two variants are named after how they attach to a hydraulic pipeline. It's crucial to know how each best matches different types of hydraulics.
1) In-line axial motors are basic variants that remain in an internally fixed, static mount. They're typically cheaper and smaller than bent axis models and are resistant to high-pressure intakes. Axial motors are also seen as more reliable, less prone to stalling, and longer-lived if used with mid-level, mid-power hydraulic flows.
However, they can only cope with lower displacement levels and line flux.
'Swash' (i.e. the measure of how much the actuation plate inside the motor bends when hit by generating pistons) is limited by design. In-line units have a safe maximum of 20° from a set position. This limitation clamps their displacement rate, making in-line generation less powerful, slower (if used to create kinetic movement), and more vulnerable to sudden shocks (e.g. accidents, vibration).
2) Bent axis motors take a different approach. Although more expensive, they use a 'bent' attaching chamber alongside a more complex, lighter weight set up to better respond to and move against sudden torque and higher fluid flow rates.
They can flex up to 40° due to the extra space, making them ideal for high-yield applications and generation. They're also inherently better at conversion than in-line designs, operating at c.105% of base hydraulic kinetic capacity out of the gate – even without a faster-displacing fluid intake.
However, complexity, strength, and advanced functionality come with their costs. You should generally expect to pay more in lifetime maintenance costs for a bent axis model than an in-line equivalent motor.
Hydraulic Motors And Components From Hydrastar
Need a hydraulic motor – or any other hydraulic or pneumatic component? Get in touch with Hydrastar. As specialist UK suppliers to industry and utility, we'll have what you need. Why not browse our selection of hydraulics to get started?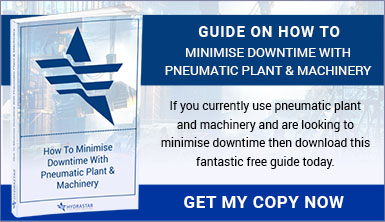 Image source: Pixabay